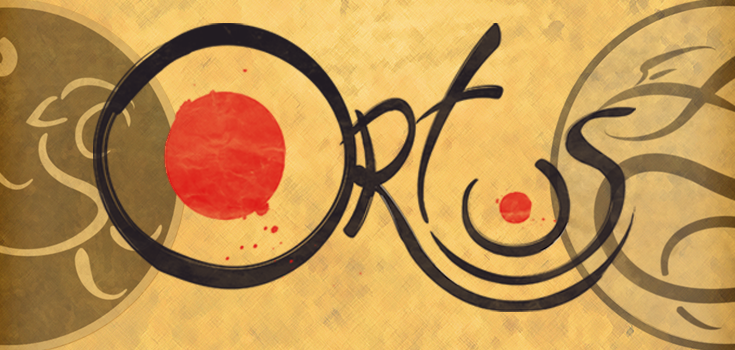 Ein sehr schönes, strategisches 2-Personenspiel, das mit einer geringen Einstiegshürde aufwarten kann und dank der anspruchvolleren Meistervariante lange Zeit spannend bleibt.
Its blending of resource management with abstract strategy I found to be very well achieved and a delight to play. / I am very much enamoured of this game and its complexities right from the balance of energy from attack and defence, to the ways in which the different pieces work.  I am really glad to have the chance to play this and will continue to enjoy it.
I guess I cannot recommend it enough if you're looking for an awesome little combat game.
Little Metal Dog

:
I can, hand on heart, recommend Ortus to anyone seeking a thoughtful, strategic game for their collection.
Got Game Testers:
Oh, Ortus got game. Solid game!
Many more reviews
(English, German, Dutch,  Danish etc.)
HERE
What's in the box?
The story
Greetings! And a warm welcome to Ortus. 
Sitting down for a game, you and your friend fill the seats of two celebrated warriors. Both Lord now to one of the two ruling Houses and bitter rival of the only person you can call your equal. Each other. 
For decades your lives have been closely matched. Seemingly mirrored careers that through struggle and sacrifice have led you both to hold the highest considerable position of power and status. But the ambition that brought you this far will not allow you to sit idle, not as long as your position in this world is still shared. 
Having challenged your lifelong rival to a stand off, you lead a band of handpicked warriors to the fabled arena of Ortus, The World's Core. This landmark is believed to have held the very essence that created this world. Here lies the source of the first raging energies that fed the prime elements, from the shaping Waters and guiding Winds to the crafting Fires and nurturing Earth. It is here that the world found its origin. What better place to meet? 
Whether the legend holds any truth or not, it cannot be denied that the very ground around The World's Core is teeming with raw energy. It is this energy you must harness and wield to your purpose. 
Through your warriors you will strive to best your opponent. Deeply disciplined in one of the elements, from the elusive Winds and twin Fires to the ungraspable Earth and fatal Waters, each warrior takes in the surrounding energy and channels it to fuel their unique strengths. 
In this hour the balance of power will finally be upset. Make it in your favor. 
Good luck.
Ortus has its own website!
This project got too big to be contained at only this website. For even more info, updates and inside peeks, go
HERE
.
Choose your game. Two arenas to play on
The Ortus game board is double sided. Decide with your opponent on which arena you meet.
Flip to board to play another arena
Choose your game. Gentle learning curve
Apprentice game
The rules for Ortus are cut up in two chapters. The Apprentice and the Master game. When you start exploring Ortus, it is highly recommended to start with the apprentice game. You can start playing after only a few minutes of rules reading.
Getting a full grasp of it all might take you quite some games though. Take your time.
Master game
Once you have played enough Apprentice games to make you feel comfortable with the concept and tactics behind Ortus, you might try taking it a step further by learning the Master rules. Here, every warrior has its own unique character, reflected in the element they are schooled in. Positioning becomes far more important with the introduction of Hexlines, your initial setup in the Haven becomes more strategic and the order in which you execute your attacks must be well thought of.  Study the aspects of each element, its strengths and weaknesses and put them to their ultimate use to best your opponent.
Meet the warriors here
Rules
Rulebook is available in
ENGLISH
and
DUTCH