Bouwradius – Veiligheid op de werkplaats
The game: Bouwradius –
Veiligheid op de werkplaats
(
safety on the workplace
) was designed and produced for
Bouwradius
, a company dedicated to training personel for the building sector.
With most of their workforce operating in the heavy industry,  often under high pressure, building companies have made safety their top priority. Bouwradius therefore puts major emphasis is this element. Always looking for new ways to engage their students, they contacted FableSmith to
 Again, this educational game was designed as a cooperative experience (all the players work together against the game-system). Cooperative games invite the players to discuss the current situation on the game board and  triggers them to come up with the best solution, inside the game space and out.
Here's a list of elements that are discussed while playing the game:
– The timepressure workers feel to complete assignments, at the cost of safety. – The office vs. the workspace. Many workers feel that management has too little empathy with the people executing their assignments – Workers do have influence if they speak out about the daily issues they face – Pointing out dangerous working methods to a fellow worker is a good thing, not a form of disrespect.
– Doing many things quickly ultimately costs more than it acquires
– Everyone is responsible for each other.
– Trying to streamline the process reduces risks
– Accidents are usually the result of a compilation of small missteps, not simple bad luck.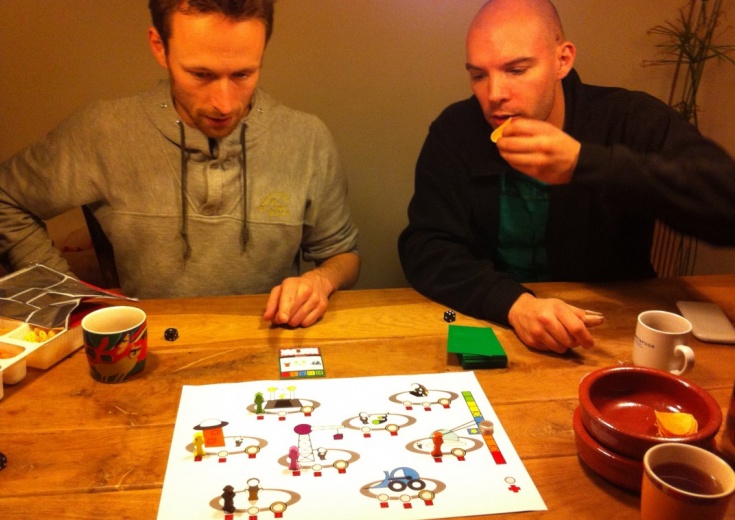 Using a very simple set of rules, players learn to communicate about safety issues and the treat of taking many small risks on a daily basis,
Bouwradius, the game, takes advantage of giving the players a birds-eye view of a situation most are usually smack in the middle of. Discussing the problems and relating them to their every day lives is another step closer to less accidents in the field.